Welcome to AICR Australia
AICR The International Association for Deputy Managers and Front Office Managers of Luxury Hotels
AICR Australian President's Welcome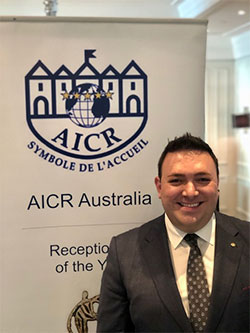 Welcome to AICR Australia, our aim is to connect and support our Front Office Managers by creating lifetime friendships.
AICR is the International Front Office Managers Association with over 1,000 members worldwide and continues to grow.
Via this website, and all other social media platforms, we aim to inspire hoteliers, communicate, support, and assist in growing our hotel Front Office professionals.
Wishing to cultivate our younger generation AICR hosts an annual Receptionist of the Year (ROTY) competition, aimed at identifying and inspiring future industry leaders. Annually, members have the option to travel to the international congress, where the Australian ROTY winner competes against other winning candidates from around the world.
Since the AICR Australia section was re-established in 2015 candidates have represented Australian Hotels in Vienna, Paris, London, Zurich and most recently Baden-Baden. With the international association operating since 1964, candidates return with a wealth of knowledge gained from international committee members working in high profile hotels.
Outside the yearly competition, we provide regular member activities, networking events and an opportunity to meet members and engage in each participating states.
My involvement with AICR commenced in 2009 as a candidate, then in 2012 as the role of NZ Treasurer, judge, competition organiser and since 2019 as AICR Australia President.
I have entered the hotel world upon arriving to Australia in 2000. Beginning my career as a housekeeper with Radisson Hotel Sydney. During this time, whilst maintaining Radisson Hotel's high cleanliness and hygiene standards, I learnt to manage my time effectively and expand my knowledge of overall hotel operations. I have climbed the ranks through many front of house roles, such as Concierge, Receptionist, Guest Relations Manager, Night Manager, Front Office Manager and now Rooms Division Manager.
The past twenty-two years working in hotels throughout Australia and New Zealand has been extremely rewarding. The experiences I have had, the people I have met, and the knowledge I have acquired are all owed to this extraordinary industry. I enjoy sharing these skills with my peers, by continuing to mentor staff and ensuring they thrive in the industry as I have. I also thoroughly enjoy the opportunity to create memorable guest experiences and leave lasting impressions.
I am excited to continue to develop in this thrilling industry by broadening my set of skills and knowledge, currently completing Master of Business in Global Hotel Leadership with the SCU Hotel School. This degree will help me continue to mentor my peers in both my current role as Rooms Division Manager at Crown Metropol Melbourne and as AICR Australia President.
We would love for you to join the Australian AICR section, and I welcome any questions you may have. I hope to not only hear from you but meet you at one of our future events soon.
Amicalement,
Sevag Keroghlian
If you are not a member yet, please fill in the application form and email it to president@aicraustralia.com.au
About the AICR
The AICR (Amicale Internationale des Sous Directeurs et Chefs de Réception des Grand Hôtels) is a front office managers network, which was founded in the Cote d'Azur in France in 1964, the Registered Office of the AICR is the Hotel Ritz, Paris and we currently have 18 sections: Australia, Austria, Cote d'Azur, France, Czech Republic, United Arab Emirates, Estonia, Germany, Indonesia, Italy, Morocco, New Zealand, Qatar, Singapore, Spain, Switzerland, United Kingdom and Poland.
In 1995 the annual International Receptionist of the Year competition (now World's Best Receptionist Competition) was launched. The concept (in very short): AICR member countries hold national competitions and respective finalists compete at the international competition.
Naturally, the activities and ambitions of the AICR have grown since its inception with a strong focus on education and professional development.
Here are two direct AICR links with details:
https://aicrinternational.org
https://aicrinternational.org/the-david-campbell-trophy
Apply for Membership
Thank you for your interest in the AICR; PLEASE FILL IN THE BELOW FORM SHOULD YOU WISH TO APPLY FOR THE MEMBERSHIP: If you have any problems, please contact us at: president@aicraustralia.com.au
Objectives
To promote social interaction amongst its members and sections
To discuss common work issues
To encourage best practices in the front-of-house/hospitality industry
To promote and organise any scheme for raising and dispensing funds for training or educational or charity purposes
To enhance the knowledge and professionalism of Rooms Division management
To work closely with various hotels, tourism associations, other hospitality associations and hospitality institutions from member countries to promote tourism and attract young people to join the hotel industry and promote their career in the Rooms Division
Manage and run the Receptionist of The Year competitions in each section culminating in the annual David Campbell Trophy – the international Receptionist of the Year Competition.